Q.
I find myself sitting for hours practicing, rehearsing and playing concerts.

What can I do about my lower backaches?

A.
'Cellists are a chair-bound species. Of necessity we sit, sometimes

for hours at a time. Therefore we must find a sitting posture that

provides a foundation of comfort, flexibility, strength and endurance

for hours of varied playing. Sitting well is just as important for

cellists (and pianists) as is the proper stance for actors, singers and,

yes, violinists on stage.


The main object should be to SIT LOOSELY, YET NOT SLOUCHED BACK,

EXPECTANTLY, YET NOT RIGIDLY.


Find a sturdy, full-sized straight chair. Sit down solidly on the

forward part of the chair. Now pull your feet back toward the chair,

toes slightly apart with heels touching (making the letter "V") until

you can lean on the balls of your feet (with the heels off the floor).

Continue with the following exercise from Master Lesson 1 of
The Joy of Cello Playing.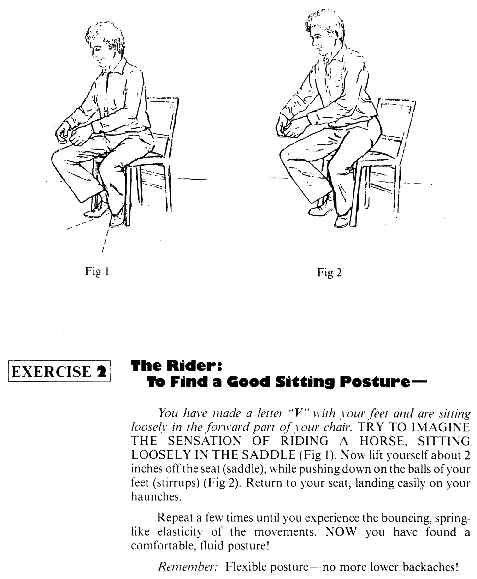 Copyright©1986 by Harry Wimmer


If you found this posture exercise helpful, you might want to

reexamine how you hold your cello:

See The Joy of Cello Playing, Master Lesson 1

Master Lesson 1 available online from: sharmusic.com

---

On to
Q & A #4?
Home


For still more topics, return to Top 10 Q & A's or to Ask Harry Wimmer.